Fibroids are noncancerous growths that usually develop in the uterus of a woman during her childbearing years. Also called uterine myoma, they can cause complications including excessive bleeding, pain and infertility.
According to the U.S. Department of Health & Human Services, 70 percent of white women and 80 percent of African-Americans will have had fibroids by the time they reach the age of 50.
Gessie Thompson was one of these women. She first worked as a brand manager, but because of her bodily struggle with fibroids and their interference with her desire to have a baby, her professional career changed. Through her personal journey, Thompson became a fibroids and fertility coach, speaker and bestselling author of the book, Hope Beyond Fibroids: Stories of Miracle Babies & the Journey to Motherhood. She also partnered with two doctors to develop a naturalistic program to help combat fibroids. Today, as a fibroids awareness activist, Thompson is working to help other women who suffer with this disorder by treating their problem holistically.
Vital Updates spoke to Thompson about her challenging personal story and how she became a vessel of empowerment and health for women.
How old were you when you were first diagnosed with fibroids? What did doctors tell you about the condition?
I was diagnosed with fibroids at the age of 30, when I went to see my gynecologist to seek answers regarding why my husband and I were unsuccessful in our attempts to conceive for nearly one year.  My doctor informed me my fibroids were causing infertility.
You struggled with fibroids within your body five different times for nearly 15 years. Describe some of your experiences so we can fully understand what kind of trauma these growths can cause to the body and the effect it can have on your quality of life.
During my 14-year battle with fibroids, I experienced every major symptom that plagues women struggling with fibroids. In 2001, when I was first diagnosed with fibroids, my only symptom was infertility, which is the inability to conceive for one year or more.  I also had developed a slightly protruding, rounded abdomen. But, I just attributed that to a slowing metabolism as I entered my 30s.
My fibroids returned four years later in 2005, when I began to experience extreme pain during sex. This happened because one large fibroid was placed right at the end of my cervix. I was often crippled by severe cramps that radiated down from my uterus to my feet.
In 2010, I hemorrhaged to the point of severe anemia, and had to be hospitalized. I also had to endure embarrassing breakthrough bleeding on several occasions. This episode also introduced me to the excruciating pain of sciatica, because one of the fibroids was pressing down on my sciatic nerve.  Some nights I would wake up screaming in pain, and I even had to visit the emergency room for pain management.
In 2011, through the help of a cycle of in vitro fertilization (IVF) you became pregnant. But this also coincided with the return of your fourth bout of fibroids. How did the fibroids affect your pregnancy?
At 21 weeks into my second pregnancy (I had a miscarriage prior to this), my doctor informed me after a routine sonogram that the fibroids had returned. Now the fibroids were competing with my unborn child for blood flow, which caused my daughter to develop a condition called fetal growth restriction.  That day, I heard some of the scariest words in my life… "you might want to consider terminating the pregnancy." The doctors told me the baby would not be viable and that the pregnancy would endanger my life.
Thankfully, we rejected this invitation and gave birth to our miracle baby Nia that September 8th despite the complications that nearly took both of our lives.
[Editor's Note: Thompson chose to deliver her baby via C-Section at 32 weeks because doctors advised her that the baby had a better chance outside of her womb than inside of her body. Her daughter Nia was born prematurely, weighing only 2.5 pounds at birth, but today, at five years of age, she is healthy and thriving.]
Even several years after the birth of your daughter Nia, your fibroids returned and caused even more health issues for you. What kind of problems did you have at this time?
In 2014, I suffered debilitating migraines every day for weeks. Then I experienced intestinal bleeding that was brought on because of ulcerations in my bowels that were byproducts of adhesions that developed following my second myomectomy (open surgery to remove the fibroids from my uterus).  I lost more than 40 percent of the blood in my body — 4 units of blood — as a result of this intestinal bleeding and became severely anemic. I also experienced shortness of breath, tightness in my chest and extreme fatigue.
You survived a tremendous ordeal, but your personal experiences with fibroids led to your professional work as a fertility coach. What kind of services did you provide for women?
I worked as a Fibroids & Fertility Coach helping women overcome the spiritual and emotional challenges that emerge from navigating fibroids and infertility. But I sensed  that my coaching program was missing something that would help women address their physiological for healing their wombs.  I knew from experience that surgery was only a temporary solution as the majority of fibroids return after surgical intervention.
So that led to your introduction to the naturalistic doctors who developed curing the body of fibroid growth. Tell us about that meeting. And how do both of your methods create complete healing experiences for women?
At the time I was looking for natural remedies, I was introduced to the work of naturopathic doctors Dr. Amsu Anpu and Dr. Amun Neb, co-authors of Got Fibroids? The Fibroid Elimination Bible. We met and learned that we both had gaps in our programs — like interlocking puzzle pieces — which we could help each other fill.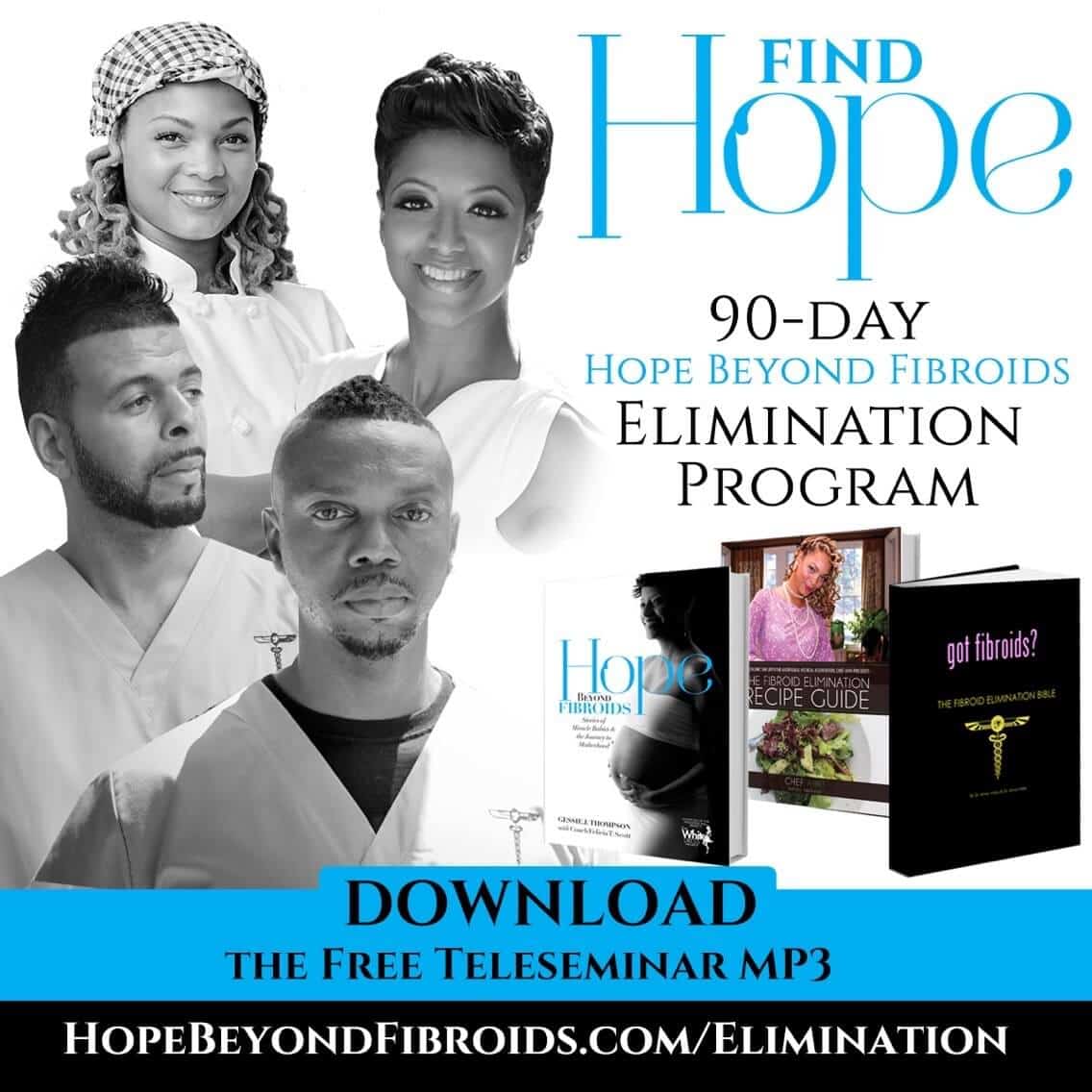 They were experiencing success in helping women eliminate fibroids, infertility and other reproductive diseases. But they found many of their patients needed coaching to help them deal with the spiritual and emotional issues that drove their stressors.
These women also needed support and community to help them sustain the change of lifestyle in healing from fibroids.  My coaching focused on the spiritual and emotional healing but lacked the solution to their physical problems. So Dr. Anpu, Dr. Neb and I decided to join forces to form the 90-Day Hope Beyond Fibroids Elimination Program.
Explain what the 90-Day Hope Beyond Fibroids Elimination Program is. What kind of food, diet and lifestyle regimen changes does it suggest to rid the body naturally of fibroids?
There are three drivers of estrogen dominance in the body — stress, diet and pollutants — so the doctors and I designed a comprehensive, inside-out healing program that tackles those three triggers through the following four pillars:
Coaching that equips our Hope Sisters battling fibroids more with tips, tools and strategies to help them rewire the way they process stress, and provides the accountability, community and support to help women design a lifestyle of healing.

Nutrition planning that teaches them to use their food as medicine.

Herbal supplements that provide the gap in minerals to eradicate the estrogen dominance and break down the fibroids and other symptoms.

Daily practices that help accelerate the body's healing functions and facilitate the movement of estrogen out of the body.
Your story is one of survival, triumph and inspiration because you took your devastating experience and provided hope and healing to other women who suffer the same trauma. What kind of feedback have you gotten from women on the Hope Beyond Fibroid Elimination Program? And how has it changed their lives?
Some of our success stories include New York-based psychologist Annalise Henry who started the HBFE program in January of 2016 with a staggering 57 fibroids completely obstructing her ovaries. At the time of her post-program MRI in July of 2016, she received confirmation that she eliminated 50 fibroids on the program without any surgery.  
Danielle Key-Odis started the program in January of 2016 and achieved her first pregnancy after battling fibroids and infertility for 12 years, giving birth to her miracle baby Charlie Odis on October 12, 2016.  Women currently in the program now have menstruation cycles with much lighter bleeding and report being cramp-free after previously having their personal and professional lives derailed by the ravaging effects of fibroids.
For more details on how to heal and protect your womb from fibroids, infertility and other diseases, download and listen to Gessie Thompson's free Hope Beyond Fibroids Elimination Teleseminar at www.HopeBeyondFibroids.com/Elimination.
Ronke Idowu Reeves is a writer and journalist who hails from Brooklyn, NY. Her news and entertainment stories have appeared on WABC-TV-New York, Fox News Channel, VH1, BET.com plus in Sundance Film Festival's Sundance Daily Insider and People Magazine.