Predicting autism could be possible for the general public in the near future, thanks to researchers at the University of North Carolina at Chapel Hill.
In a recent study, MRI scans of infants ranging in age from six to twelve months were taken to determine the risk for autism. All of the participants had older siblings with autism.
"Our study shows that early brain development biomarkers could be very useful in identifying babies at the highest risk for autism before behavioral symptoms emerge," said senior author Joseph Piven in a press release. "Typically, the earliest an autism diagnosis can be made is between ages two and three. But for babies with older autistic siblings, our imaging approach may help predict during the first year of life which babies are most likely to receive an autism diagnosis at 24 months."
In the study, the researchers correctly predicted 80 percent of the infants who would meet the criteria for an autism diagnosis at age two. Hundreds of participants were involved with the study, with MRI scans for looking at the brain's volume, surface area and cortical thickness.
Related: Complications During Pregnancy May Increase Autism Risk in Children
"This study could not have been completed without a major commitment from these families, many of whom flew in to be part of this," said Heather Hazlett, an author for the study. "We are still enrolling families for this study, and we hope to begin work on a similar project to replicate our findings."
The researchers included the infants' sex in the study and utilized a computer program as a way to determine which infants were at the highest risk for autism. Infants with older siblings with autism who had brain differences at six and 12 months of age were accurately predicted as high risk.
The infants considered high risk experienced a hyper-expansion of the brain's surface area, a symptom linked to autistic traits at age two. In fact, eight out of ten infants would later meet the criteria for autism, the authors said.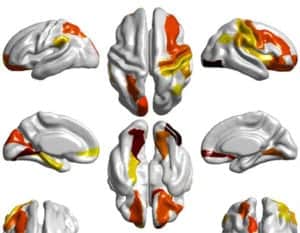 "We see an increase rate of growth of the outer surface of the brain, the folds, the sort of waviness of the surface. That's followed by an overgrowth of the brain in the second year," Piven said. "This means we potentially can identify infants who will later develop autism, before the symptoms of autism begin to consolidate into a diagnosis."
Parents who already have a child with autism and are expecting another child could specifically benefit from the study. The researchers hope to use the results to help counteract any symptoms before age two, and even prevent an autism diagnosis.
"Putting this into the larger context of neuroscience research and treatment, there is currently a big push within the field of neurodegenerative diseases to be able to detect the biomarkers of these conditions before patients are diagnosed, at a time when preventive efforts are possible," Piven said. "We haven't had a way to detect the biomarkers of autism before the condition sets in and symptoms develop. Now we have very promising leads that suggest this may in fact be possible."
Related: New App Detects Early Signs of Autism in Children
Tori Linville is a freelance writer and editor from Clarksville, Tennessee. When she isn't writing or teaching, she's faithfully watching her alma mater, the University of Alabama, dominate the football field.