Be sure to check that toothpaste label carefully the next time you brush your teeth. A popular ingredient widely used in toothpaste, chocolate, sweets, chewing gum and biscuits might cause cancer, according to a new study.
When researchers in France and Luxembourg added the chemical titanium dioxide into the drinking water of rodents for 100 days, they found that 40 percent of rats developed precancerous growths. The additive also sped up the development of these growths. While they weren't malignant, the growths had the potential to develop into more dangerous cancers.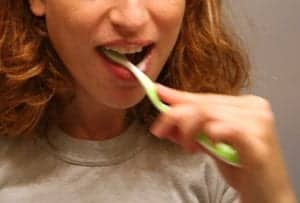 Research also found that the product, known as E171 in Europe, was easily absorbed by the intestine and passed into the blood where it spread to other parts of the body. The chemical also weakened the immune systems of the rats. In rodents given uncontaminated water, no growths were found.
"These results indicate that E171 both initiates and promotes the early stages of colorectal carcinogenesis in animals," researchers from France's National Institute for Agricultural Research (INRA)  said in their published findings. "These studies show for the first time that the additive E171 is a source of titanium dioxide nanoparticles in the intestine and the entire body, with consequences for both immune function and the development of preneoplastic lesions in the colon."
Related: Burnt Toast Can Lead to Cancer, Experts Warn
It's still unclear if the ingredient has the same effect on people. "At this stage, the results of the study do not make it possible to extrapolate these findings to humans," the researchers said. However, concerns still exist for young people who enjoy candies and confectioneries. "Oral exposure to E171 is a concern, especially in children who tend to eat a lot of sweets," concluded researchers.
What Is Titanium Dioxide?
Titanium dioxide is a common additive used in many food, personal care and other consumer products. Candies, sweets and chewing gum contain the highest content of titanium dioxide, while personal care products like shampoos, deodorants and shaving cream contain the lowest.
Titanium dioxide accounts for 70 percent of the total production of pigments worldwide. It's widely used to provide whiteness, opacity and a cloudy-like appearance to products like paints, plastics, papers, inks and foods.
It can also be found in cosmetics and skin care products. The reason the chemical is prevalent in nearly all sunblock is because it protects the skin from ultraviolet light.
Is Exposure to Titanium Dioxide Safe?
The European Food Safety Authority (EFSA) announced in September 2016 that current levels of dietary exposure to titanium dioxide were not a health risk. But because of data limitations, the organization was unable to advise on what constituted acceptable daily limits. Additional research still needs to be done to thoroughly explore these data gaps and to examine if there are any potential effects to the reproductive system. A small number of studies have flagged titanium dioxide as a risk to reproductive organs.
Related: Eating This Spicy Ingredient May Help to Fight Breast Cancer
The Environmental Working Groups's Skin Deep Cosmetic Database, which analyzes the health and safety of beauty products and their ingredients, reports that titanium dioxide ranks between a 1 and 3. While that is low on the potential hazard scale index, the chemical charts at the moderate level for being a cancer risk.
Because of the growing concerns that titanium dioxide might be cancerous in humans, the French government has ordered an inquiry to determine E171's level of safety. The French Agency for Food, Environmental and Occupational Health & Safety is currently conducting an investigation to find out if E171 poses a risk for human health. These results are expected to be published by the end of March, 2017.
Ronke Idowu Reeves is a writer and journalist who hails from Brooklyn, NY. Her news and entertainment stories have appeared on WABC-TV-New York, Fox News Channel, VH1, BET.com plus in Sundance Film Festival's Sundance Daily Insider and People Magazine.