Koreans have some of the best skin in the world — and they take great pride in that. For Koreans, having healthy, glowing skin is the ultimate form of beauty. They credit a healthy diet, drinking lots of water and a daily, 10-step skincare routine for their perfectly clear skin.
For many Americans, a 10-step skincare routine may seem excessive and time consuming, but it does not have to be — you don't need to adhere to all 10 steps each day. You can even turn it into a 6-step routine or less depending on your skin concerns. For instance, if following the entire routine is just too much for you, try just doing steps 2, 4, 5, 8, 9 and 10.
Each step in the routine has a specific, skin-boosting purpose. Also, the order in which the skincare routine is done is just as important as the products themselves.
Here are brief explanations of each step in the Korean skincare routine, plus recommended products.
Step 1
—
Oil Cleanser
The oil cleanser is the first in a two-step cleansing process, which is essential to the 10-step Korean skincare routine. It removes makeup, other oil-based products like sunscreen and pollution particles. You can also do this step only at night, if you're pressed for time in the morning.
Try: Catcha Pure One Step Camellia Cleansing Oil – $48
Step 2
—
Water-Based Foam Cleanser
"Believe it or not, after one cleanse, you're still going to have stuff left over," Charlotte Cho, the board-certified esthetician behind Soko Glam and author of The Little Book of Skin Care, tells SELF online. The water-based cleanser washes away any residue left from the oil cleanser and remaining impurities. In order to not completely strip your skin of oils, choose a gentle cleanser.
Try: Beverly Hills MD Rose Stem Cell Daily Cleanser – $70
Step 3
—
Exfoliation
Exfoliation is the step that you can limit to once or twice a week. Over-exfoliating or using a harsh exfoliator could cause breakouts. However, this step is important to achieving polished, beautiful skin. By scrubbing off dead skin cells and debris, the rest of your skin products will be able to work better together.
Try: SKINFOOD Black Sugar Mask Wash Off – $10
Step 4
—
Toner
Your face is now ready for some toner, also known as "skin softener" or "refresher," which will hydrate your skin. "After you cleanse so many times, your skin is in a fragile state," said Cho. "So you want to really hydrate it."
Toner also helps your skin's pH levels and preps it to better absorb the following steps.
Try: Shangpree Bitgoa Hue Essence Toner – $57
Step 5
—
Essence
Essence is one of the most important parts of the 10-step Korean skincare routine. It's a sort of toner and serum hybrid that helps aid skin repair and cell turnover. Simply put a bit of it in your hands and then pat it evenly onto your face.
Try: Time Revolution The First Treatment Essence – $49
Step 6
—
Serums, Boosters, Ampoules
This is not a necessary step, but for those who want to focus on specific problems or concerns, such as dark spots or wrinkles, this is the step for you.
Try: Beverly Hills MD Repair + Reverse Daily Serum – $125
Step 7
—
Sheet Masks
Sheet masks are not necessary every day, but they're a good addition to any skincare routine once or twice a week. There are so many sheet masks available; picking the right one for you really depends on your skin's needs.
Try: Dr. Jart+ Water Replenishment Cotton Sheet Mask – $7.50
Step 8
—
Eye Cream
Eye cream is an important step that should not be skipped. The skin around our eyes is thin and fragile, so it needs a bit of extra attention. Also, keeping the skin around the eyes looking healthy is a great way to stay looking young.
Try: Beverly Hills MD Dark Circle Corrector – $99
Step 9
—
 Moisturizer
No matter what your skincare routine is, it should include a good daily moisturizer. An important aspect of keeping your skin looking young is keeping it moisturized.
Try: Deep Regenerating Stem Cell Moisturizer – $150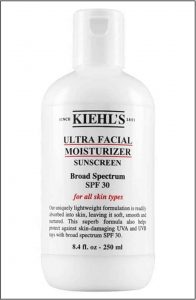 Step 10
—
SPF
Finally, using SPF every day, even if you only go outside for a few minutes, is absolutely vital. Few things will damage and age your skin as quickly as the sun's UV rays. Reapply it throughout the day as needed.
Try: Kiehl's 'Ultra Facial' Moisturizer Broad Spectrum SPF 30 – $31

Danielle Tarasiuk is a multimedia journalist based in Los Angeles. Her work has been published on AllDay.com, Yahoo! Sports, KCET, and NPR-affiliate stations KPCC and KCRW. She's a proud Sarah Lawrence College and USC Annenberg alumn.