A compound found in marijuana may be a big benefit to patients who suffer from a rare form of epilepsy.
Known as cannabidiol, or CBD, the cannabis derivative reduced the chance of seizure among patients with Dravet syndrome by nearly 40 percent, according to a new study appearing in the New England Journal of Medicine.
The new study is especially promising because pharmaceutical interventions for the rare — and sometimes fatal — condition were previously lacking.
"Dravet syndrome is a complex childhood epilepsy disorder that is associated with drug-resistant seizures and a high mortality rate," report the study authors.
While cannabidiol comes from the marijuana plant, the substance "does not contain psychoactive properties that induce a high," explain the researchers. That separates the treatment from other cannabis-derived medicines that do come with psychoactive side effects.
While the researchers caution that the new study isn't the final answer for treatment related to Dravet syndrome, they remain optimistic that cannabidiol can help improve current standards of care.
Related: Marijuana May Reverse Brain Aging, Boost Memory
"Cannabidiol should not be viewed as a panacea for epilepsy, but for patients with especially severe forms who have not responded to numerous medications, these results provide hope that we may soon have another treatment option," said Dr. Orrin Devinsky, Director of the Comprehensive Epilepsy Center at New York University Langone Medical Center.
Dravet syndrome, which first appears during infancy, is a lifelong condition known for frequent and prolonged seizures, language and speech challenges, developmental delays and other serious complications. Those with the condition face up to a 20 percent mortality rate, according to the Dravet Syndrome Foundation.
How CBD Worked in the Study
For the study, Devinsky and his colleagues tested an oral dose of cannabidiol treatment on a panel of 120 children and young adults between the ages of 2 and 18. Compared to a placebo group, children who received the cannabidiol treatment had a 39 percent reduction in seizures — or an average of six seizures per month compared to 12 in the months prior to treatment.
One worry is that several study participants opted to stop treatment due to side effects, which included vomiting, tiredness and fever.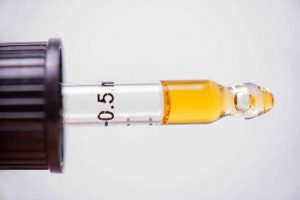 Still, the researchers are hopeful that more studies can get the treatment to the population at need. They reported that three study participants who received cannabidiol treatment experienced no seizures during the trial period.
"We still need more research, but this new trial provides more evidence than we have ever had of cannabidiol's effectiveness as a medication for treatment-resistant epilepsy," said Devinsky.
Researchers who were not involved in the study reported a general sense of optimism about the new findings.
"Interestingly, it looks similar to our other seizure medications in terms of efficacy and tolerability," Dr. Brenda Porter, associate professor of Neurology at Stanford School of Medicine, told CNN. "So, sadly, not a home run for most patients but another tool in our treatment regimen."
The researchers add that "future research will look at whether safety and tolerability might be improved and whether efficacy of CBD can be maintained at lower doses."
Related: Too Much Legal Marijuana Is Falling Into the Wrong Hands

Richard Scott is a health care reporter focusing on health policy and public health. Richard keeps tabs on national health trends from his Philadelphia location and is an active member of the Association of Health Care Journalists.