Tina and Benjamin Gibson, 26 and 33 respectively, weren't able to have children. That is, until Tina gave birth to their daughter, Emma Wren Gibson, who was frozen as an embryo for 24 years.
Tina said she remembers thinking that she simply wanted a baby. Whether that baby was record-setting or not, wasn't in Tina's thoughts.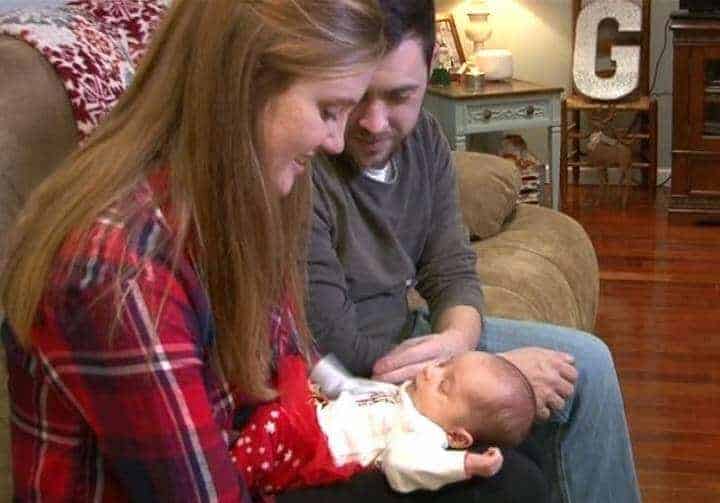 "'Do you realize I'm only 25? This embryo and I could have been best friends,'" she said she remembered thinking in an interview with CNN. "I just wanted a baby. I don't care if it's a world record or not."
Emma Gibson set the record for the longest known frozen embryo to result in a successful birth on Nov. 25, 2017. She was delivered by Jeffrey Keenan, medical director for the National Embryo Donation Center.
Emma was what is known as a "snowbaby," or an embryo frozen, waiting to be born. Tina and Benjamin adopted Emma as an embryo along with four sibling embryos from the same egg donor.
The anonymous couple created the embryos via in vitro fertilization and donated them so that they could be given to another who might be unable or unwilling to conceive naturally. Tina said she and Benjamin entered their marriage figuring they would adopt once they were ready to begin their family.
"My husband has cystic fibrosis, so infertility is common," she said. "We had decided that we were more than likely going to adopt, and we were fine with that."
In the meantime, the Gibsons became foster parents and enjoyed the experience. Tina's father was the first to mention embryo adoption.
"'I saw something on the news today. It's called embryo adoption and they would implant an embryo in you, and you could carry a baby,'" he said to Tina.
Tina said she was quick to shrug her father's suggestion off, chalking her disinterest up to her responsibilities with foster care. As she and Benjamin set off on vacation for a week, she said she couldn't stop thinking about her dad's suggestion.
"I was like, 'Well, that's nice, Dad, but we're not interested. We're knee-deep in foster care right now.' I kind of blew it off. I had no interest in it," she said. "It was playing in my mind over and over and over."
Related: Vitamin B3 May Prevent Birth Defects and Miscarriages — Study
During their drive, the couple discussed embryo adoption as Tina looked up information about the process on her phone while Benjamin drove. They didn't immediately commit to the idea, though.
" I knew everything about it before I got off that vacation," she said. "During August of last year, I just came home one day; I looked at Benjamin, and I said, 'I think we need to submit an application for embryo adoption.' On a whim, we filled out an application and submitted that night."
After undergoing a series of medical exams and a home study, the Gibsons had to review donor profiles in order to choose an embryo after being approved. The couple said the process was overwhelming.
"We literally had two weeks to go through 300 profiles," Benjamin said.
After their first choice was deemed not viable, their second choice was used. An embryo was implanted and the couple gave birth to Emma nine months later after 20 hours of labor, without complications.
The National Embryo Donation Center, a faith-based organization, handles embryo donations for free and adopts out embryos from fertility centers. An adopting couple pays all fees, paying almost $12,500 for the first attempt, said Mark Mellinger, Marketing and Development Director for the NEDC.
"We wanted to adopt, and I don't know that that isn't going to be in our future. We may still adopt," Tina said. "This just ended up being the route that we took. I think that we would have been equally elated if we were able to adopt."
Tori Linville is a freelance writer and editor from Clarksville, Tennessee. When she isn't writing or teaching, she's faithfully watching her alma mater, the University of Alabama, dominate the football field.